The orthodox view of portfolio management as a super-set of projects and programs is wrong rather it is a subset of strategy execution.
---
The "Headless Pyramid"
The traditional representation of projects, programs and portfolios is as a pyramid - with portfolio management on top.[1]
This infers that portfolio management is a superset of project and program management — and indeed, many of the "Project Portfolio Management Standards" have adopted this mindset.
But, portfolio management is not a superset of project and program management...
Project portfolio management is a subset of strategic management.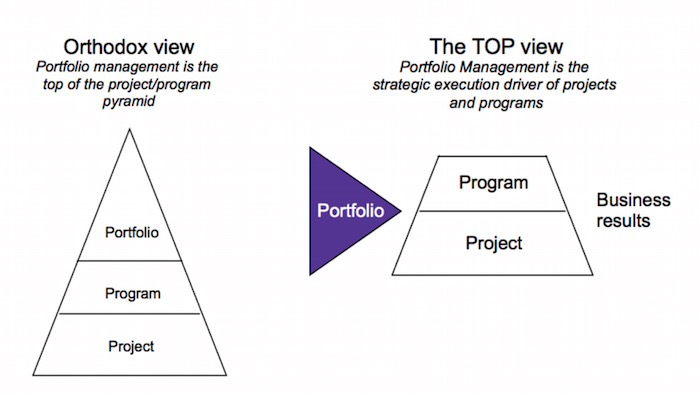 Portfolio management is about organizing, structuring and governing the delivery of the strategy through projects and programs to deliver the desired business outcomes.
Project portfolio management is, therefore, a director, enabler and consolidator but not deliverer of project and program activities.
Projects and programs don't "report" to the portfolio manager but to their Sponsor and Steering Committees. However, these projects and programs need to be directed, coordinated and managed as a cohesive set to ensure they individually, cumulatively and optimally deliver the agreed business strategy (the 1+1=3 perspective).
Project Portfolio Management as a role therefore needs to report to the Strategy or Investment Committee. It is this committee's mechanism for ensuring the approved projects/programs deliver the strategy and, if they go off-course, that they are either realigned or stopped.
Project Portfolio Management processes
Portfolio management 'manages' five processes:
Investment management enablement and support processes

Delivery resources planning, development and management processes

Capability development and management processes

Investment optimization, management and reporting processes

Project enablement, support and optimisation processes.
Missing from this list is any project delivery dimension. The portfolio management function does (or should) not have any accountability for project/program delivery per se. Portfolio management is not part of the step-by-step project/program delivery process. Instead it is a strategic governance role that equips, enables, supports, monitors and measures project/program delivery performance.
Whereas in some organizations these five processes are run by the same group in other organizations they are split between different groups with different titles, but the intended effect is the same.
Portfolio management and project managers
While it has often been convenient to have project/program managers report to portfolio managers this is not a core portfolio management function. In fact, such a reporting line shifts portfolio management from a governance role to a line delivery role.
Anyone managing a group of project/program managers needs to:
Assess their individual competencies and, therefore, what project types they can and can't do

Jointly manage the project managers' career plans and, therefore, the projects they should and should not do

Monitor and measure their on-job performance based on results delivered, delivery performance measures and client satisfaction criteria

Respond to and resolve career and performance issues as they arise.
These are a set of people/pool management processes that are quite different and additional to the mainstream portfolio execution management processes.
Do portfolio managers need project management skills?
Portfolio managers need to understand the dynamics of project delivery and what can go wrong so that they are not blindsided or 'snowed' by the project and governance teams; but their main skills need to be in strategic execution and value delivery, not project management.
In Summary
Successful portfolio management requires strategy execution skills, not project delivery skills.
It really is that simple.
---
Read other posts in our series on Strategic Project Portfolio Management
When do you need a Project Portfolio Management Office?
Explore further
Learn more about the five core sets of skills in TOP's Primer, "Understanding Strategic Project Portfolio Management"
---
[1] Occasionally, 'Strategy" is represented as the top layer of a four-layer pyramid. This is an attempt to link portfolio management with strategy but fails our tests here.