8: The Five Components of Value Delivery
---
When seeking to improve their project delivery capability many organizations focus on their project management skills. This is a business capability maturity level-1 approach — get a better quality 'hero' (project manager).
Project managers have a specific organizing, conducting, facilitating and controlling role to play on projects. But project management is only one of five such roles or components required for success.
The five Value Delivery components can be illustrated as follows: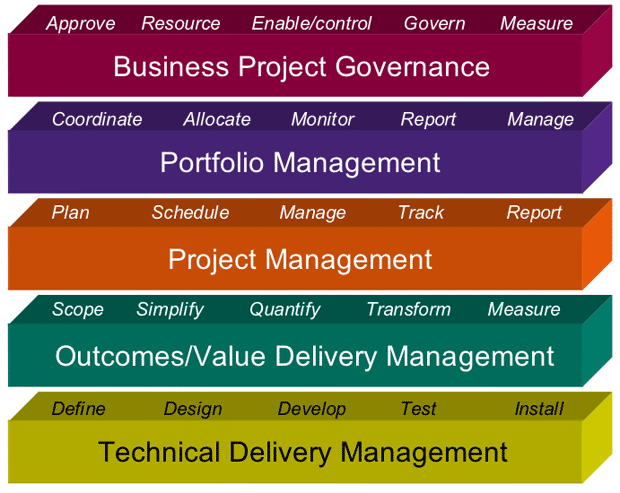 The Project Governance level creates the environment for projects to succeed in the business. This is where business leadership is applied to ensure the project portfolio takes the organization where it wants to go.
The Portfolio Management level manages the inter-relationships between the projects and seeks to increase the overall value of the portfolio by optimising all of the resources.
The Project Management level plans and manages the workload and resources on the project. This is where the standard project management methodologies and bodies of knowledge are applied.
The Outcomes/Value Delivery Management level delivers the value. The definition of the scope, requirements coupled with effective value and change management enables the value to be delivered into the business. NB this stream does not include the technology or systems.
The Technical Delivery Management level supplies the engineering, technology, systems, technical skills and resources to the outcomes/value delivery level to enable the results to be delivered.
The implication of this model is that
all five components are required to be effective for each project and the portfolio to successfully deliver the value expected
just focusing on one component — eg project management, technical delivery or alike — will only have a marginal impact
all five components need to be at the same level of maturity to generate the best results; shortfalls in any one component of project delivery will reduce the value of the rest
the business cannot abdicate project delivery capability improvement to the project or IT fraternity as they themselves have an important role to play in governance and supporting the portfolio and solution delivery streams.
When governing a project you need to ensure all five components are present, working well and aligned to delivering the expected value. You need all five components for you to succeed.